Chevrolet Venture (2000) – fuse box diagram
Year of production: 2000
Instrument Panel Fuse Block
The instrument panel fuse block is to the right of the glove box.
| | |
| --- | --- |
| Circuit breaker | Usage |
| HEADLAMP | DRL Control Module, Headlamp and Instrument Panel Dimmer Switch |
| PWR WDO/RR VENT | Front Power Windows |
| PWR SEATPSD | 6-Way Power Seat(s) and Rear Side Door Actuator Motor |
| FRT HVAC/HI BLWR | Blower Motor Hi Speed Relay in Module |
Fuses
Usage
SWC BACKLIGHT
Steering Wheel Radio Control Switches (Illumination)
ELEC PRNDL
Instrument Cluster to PRNDL Indicators
PWR MIRROR
Power Remote Control Mirror Switch
CRUISE
Cruise Control Module, Switch and Release Switch
PCM/CRANK
Power Control Module (PCM), Ignition Crank
PASS KEY
PASS-Key System
PWR LOCK
Body Control Module (BCM)
HTD MIRROR
Heated Mirrors
RH TLP
Not Used
RR FOG LP
Not Used
CIGAR/DLC
Cigarette Lighter and Data Link Connector (DLC)
T/SIG
Turn Signal Switch
PWR QTR VENT
Interior Lamp and Multifunction Switch (Power Vent Switch)
FRT WPR/WSHR
Windshield Wiper/Washer Motor and Switch
HAZARD
Turn Signal Switch
RR PWR SCKT
Rear Electric Accessory Plug Housing
DRL
Daytime Running Lamps (DRL) Control Module
LH T/LP
Not Used
RR DEFOG/HTD MIRRORS
Rear Window Defogger Relay, Heated Mirrors
FRT PWR SCKT
Front Electric Accessory Plug Housing
SIR
Inflatable Restraint Control Module
HVAC BLOWER
Heater-A/C Control
MALL/CLUSTER
Instrument Cluster, BCM, Electronic Level Control (ELC) Sensor and Relay
STOP LAMP
Stoplamp Switch
CLUSTER BATT
Module/Electronic Brake Control Module/Electronic Brake Traction Control Module (EBCM/EBTCM)
CAN VENT SOL
Evaporative Emissions (EVAP) Canister Vent Solonoid Valve
ELC/TRAILER
Electronic Level Control (ELC) Air Compressor and ELC Relay, Trailer Harness
CTSY LAMP
BCM
IGN 1
BCM, Electronic Brake Control Indicator Lamp Driver Module, Instrument Panel Cluster, Rear Side Door Actuator Control Module, Rear Windows
RR HVAC
TEMP CONT
Rear HVAC-A/C Control
RR WPR/WSHR
Rear Window Wiper Motor, Rear Window Wiper/Washer and Multifunction Switch (Rear Window Wiper/Washer Switch)
LH HEADLP LOW
Not Used
LH HEADLP HIGH
Not Used
RAP RELAY
Retained Accessory Power (RAP) Relay
HVAC/DIC/DRL HEATED SEAT
LH and RH Front Brake Solenoid Valve
HVAC/DRL
Air Inlet Actuator, Driver Information Display, DRL Control
Module, Heater-A/C Control, Temperature Door Actuator (Front) and Rear Window Defogger Relay
BCM PRGRM
(BCM)
RH HEADLP LOW
Not Used
RH HEADLP HIGH
Not Used
PCM/ABS
IGN MAIN Relay and PCM, Electronic Break Control Module
Underhood Fuse and Relay Center
This fuse and relay center is located in the engine compartment, in front of the windshield washer fluid reservoir. The fuses marked spare are available if a replacement fuse is needed.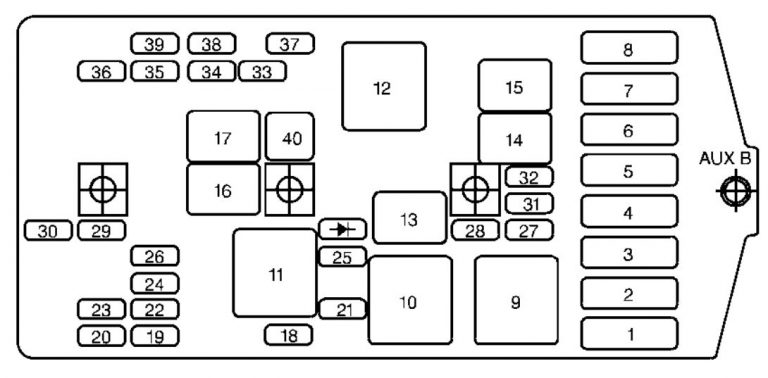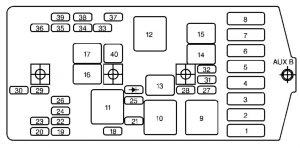 Maxi fuses
Usage
1
COOL FAN 2
Coolant Fans
2
Not Used
3
HEADLAMPS
Circuit Breakers: FRT HVAC HI BLWR, and HEADLAMP Fuses (Instrument Panel): HAZARD and STOPLAMP
4
BATT MAIN 2
Circuit Breaker: PWR SEATRSD. Fuses (UP): ELC and RR DEFOG
5
IGN MAIN 1
Ignition Switch to Fuses (Instrument Panel): ABS/TCS IGN, CRUISE, DRL, ELEC PRNDL, IGN 1, PSD, SIR, T/SIG and PCM [IGN MAIN Relay (Underhood Electrical Center Fuses: A/C CLU, ELEK IGN, IGN 1-U/H, INJ, TCC)]
6
COOL FAN 1
Coolant Fans
7
BATT MAIN 1
Fuses (UP): ABS MDL BATT, CIGARDLC, CTSY LAMP, FRT PWR SCKT, PWR LOCK, PWR MIRROR and RR PWR SCKT
8
IGN MAIN 2
Ignition Switch to Fuses (I/P): BCM PRGRM, FRT HVAC LOW/MED BLWR, FRT WPR/WSHR, HVAC/DRL, MALL/RADIO/DIC, PWR QRT VENT, RR HVAC, RR WPR/WSHR, SWC ACCY and PWR WDO Circuit Breaker
Mini Relays
Usage
9
COOL FAN
RH FAN 1, LH FAN 2
10
COOL FAN 2
LH FAN 2
11
IGN MAIN
FUSES: A/C CLU, IGN l-U/H, INS, ELEK IGN, TCC
12
COOL FAN 1
RH FAN 1, LH FAN 2
Micro Relays
Usage
13
A/C CLU
A/C Clutch
14
FUEL PUMP
Fuel Pump
15
F/FMP SPD CONT
Not Used
16
HORN
Horn
17
FOG LAMP
LH Fog Lamp, RH Fog Lamp, Fog Lamp Indicator
Micro fuse
Usage
18
INJ
Fuel Injectors 1-6
19
SPARE
Not Used
20
SPARE
Not Used
21
IGN1-UH
Evaporative Emissions (EVAP) Canister Purge Valve, Heated Oxygen Sensors 1 and 2, Mass Air Flow (MAF) Sensor
22
SPARE
Not Used
23
SPARE
Not Used
24
SPARE
Not Used
25
ELEK IGN
Ignition Control Module (ICM)
26
SPARE
Not Used
27
B/U LAMP
Transaxle Range Switch to Back-up Lamps
28
A/C CLU
A/C CLU Relay to A/C Compressor Clutch Oil
29
RADIO
Driver Information Display, Heater A/C Control, Radio, Rear Side Door Actuator Control Motor, Remote Control Door Lock Receiver (RCDLR), Security Indicator Lamp and Theft Deterrent Shock Sensor
30
ALT SENSE
Generator
31
TCC
Automatic Transaxle (Torque Converter Clutch Solenoids) Stoplamp Switch to PCM
32
FUEL PUMP
Fuel Pump Relay
33
ECM SENSE
Powertrain Control Module (PCM)
34
Not Used
35
FOG LP
Fog Lamp Relay
36
HORN
Horn Relay
37
PARK LP
Daytime Running Lamps (DRL) Control Module, Headlamps and I/P Dimmer Switch Theft-Deterrent Relay to Headlamps
38
Not Used
39
Not Used
40
Mini Fuse Pulle
 WARNING: Terminal and harness assignments for individual connectors will vary depending on vehicle equipment level, model, and market.