Ford Transit (2000 – 2006) – fuse box diagram
Year of production: 2006, 2007, 2008, 2009, 2010, 2011, 2012, 2013
Location
Left-hand drive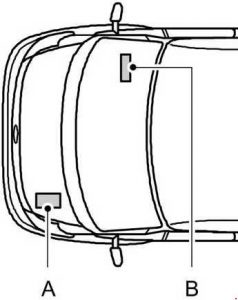 Right-hand drive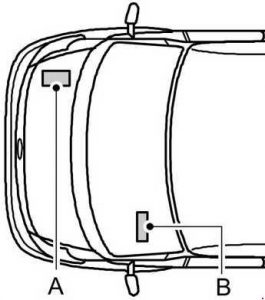 A – Engine compartment fuse box
B – Passenger compartment fuse box
Engine compartment fuse box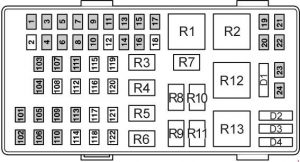 Additional Relay Box / Boxes Under Expansion Tank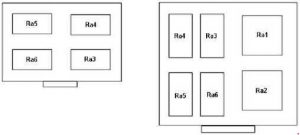 No.

A

Circuits protected

1
5
Auto shift manual transmission
2
–
Not used
3
20
Daytime running lamps, dipped beam
4
5
Battery voltage sensor (Diesel engines)
5
20
Fuel cut-off switch
6
30
Towing equipment
7
15
Horn
8
20
ABS
9
20
Main beam
10
10
Air conditioning
11
20
Windscreen washers, rear window washers
12
–
Not used
13
30
Multi-function lever, windscreen wipers
14
15
Reversing lamp
15
5
Engine immobilisation system module
16
5
Electronic engine control
17
30
Towing equipment
18
–
Not used
19
5
Auto shift manual transmission
20
15
Auto shift manual transmission
21
20
Engine management
22
20
Fuel pump
23
10
Dipped beam, right-hand side
24
10
Dipped beam, left-hand side
101
40
ABS
102
40
Heated windscreen left-hand side
103
50
Main power supply to electrical system
104
50
Main power supply to electrical system
105
40
Engine cooling fan (2.0 l Diesel and 2.3 l DOHC engines)
106
30
Ignition
107
30
Ignition
108
–
Not used
109
40
Engine cooling fan (2.0 l Diesel and 2.3 l DOHC engines)
110
40
Heated windscreen, right-hand side
111
30
Ignition
112
–
Not used
113
40
Auto shift manual transmission
114
–
Not used
115
–
Not used
116
–
Not used
117
–
Not used
118
–
Not used
119
–
Not used
120
–
Not used
121
–
Not used
122
–
Not used
Relay
R1
Starter Motor
R2
Glow Plugs / Cooling Fan
R3
Horn
R4
Main Beam
R5
Generator Cut-Off
R6
Dipped Beam
R7
Engine Management (PCM)
R8
Bulb Check (Vehicles Without ABS)
R9
Fuel Pump (TDdi Engines), Injector Module (TDci Engines)
R10
Air Conditioning WOT (Wide Open Throttle)
R11
Lift Pump (Some TDdi Engines)
R12
Engine Cooling Fan
R13
Ignition
Ra1
Air Susspension Compressor
Ra2
Engine Cooling Fan High Speed
Ra3
Trailer Tow Indicators Left Hand
Ra4
Trailer Tow Indicators Right Hand
Ra5
Trailer Tow
Ra6
–
Diodes

D1
–
D2
–
D3
Trailer Tow RH Indicator / or Air Conditioning Clutch
D4
Trailer Tow LH Indicator / or Air Conditioning Indicator Ligh
Passenger compartment fuse box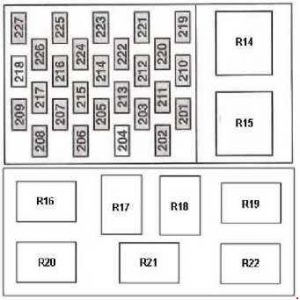 Alternative Relay Box

o.

A

Circuits protected

201
15
Instrument cluster, rear window wiper, clock
202
5
Heated windscreen
203
20
Fog lamps
204
–
Not used
205
15
Light control, direction indicators, multi-function lever, engine management, ignition
206
5
Number plate light
207
10
Airbag module
208
10
Instrument cluster illumination
209
15
Side lamps
210
15
Tachometer, clock
211
30
Rear heater blower motor
212
10
Cigar lighter
213
10
Rear air conditioning
214
15
Interior lamps, electric mirrors
215
20
Heated windscreen, heated front seats, auxiliary heater
216
20
Auxiliary power socket
217
15
Heated rear window, heated exterior mirrors
218
–
Not used
219
30
Electric windows
220
20
Heated rear window
221
15
Brake lamp switch
222
15
Radio
223
30
Heater blower motor
224
20
Headlamp switch
225
15
Air conditioning
226
20
Hazard warning flashers, direction indicators
227
5
Radio, ABS
Relay
R14
Windscreen Wiper
R15
Battery Saver / D+ (Only switches on with engine running)
R16
Heated Screen Right Hand Side
R17
Bus / Rear Door Buzzer Relay
R18
Interior Light
R19
Rear Door Warning Buzzer (buzzer unit itself not a relay)
R20
Heated Screen Left Hand Side (Timer relay)
R21
Rear Wiper
R22
Heated Rear Window / Heated Mirrors
1) Central Locking Fuses: 2 x 15A located under/taped too, steering column.
2) Heater Blower relay is behind centre console (where Fitted),
3) Auxiliary Heater relay is under drivers seat (where fitted).
4) Air Conditioning relay is screwed to rear of engine bay (where fitted), and on LPG models, all LPG control modules / relays arc located behind a removable panel on drivers side dash.
WARNING: Terminal and harness assignments for individual connectors will vary depending on vehicle equipment level, model, and market.