Volkswagen Baywindow Bus (1972 – 1975) – fuse box diagram
Year of production: 1972, 1973, 1974, 1975
Wiring diagrams (1973 through 1975 models)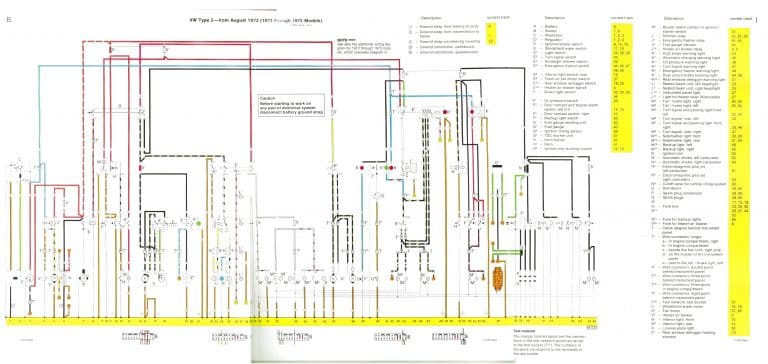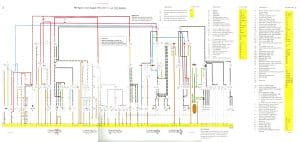 Fuse box diagram


| | | |
| --- | --- | --- |
| No. | A | Protected Component |
| 1 | 8 | Tail light left, Sidemarker rear left |
| 2 | 8 | Parking light left, Sidemarker front left and right, Parking light right, Sidemarker rear right, Tail light right, License plate light |
| 3 | 8 | Left headlight |
| 4 | 8 | Left high beam |
| 5 | 8 | Right headlight, High beam warning light |
| 6 | 8 | Right high beam |
| 7 | 8 | Fresh air fans |
| 8 | 8 | Interior light front, Emergency flasher and warning light, Turn signals |
| 9 | 16 | Accessory, Interior light rear, Door buzzer |
| 10 | 16 | Windshield wipers, Rear defogger and warning light |
| 11 | 8 | Oil warning light, Alternator light, Turn signal warning light, Gas gauge |
| 12 | 8 | Horn, Brake lights, Brake warning light, Parking brake control light |
Note: 75 only differs by the wiring of the interior lights
| | | |
| --- | --- | --- |
| No. | A | Protected Component |
| 1 | 8 | Tail light left, Sidemarker rear left |
| 2 | 8 | Parking light left, Sidemarker front left and right, Parking light right, Sidemarker rear right, Tail light right, License plate light |
| 3 | 8 | Left headlight |
| 4 | 8 | Left high beam |
| 5 | 8 | Right headlight, High beam warning light |
| 6 | 8 | Right high beam |
| 7 | 8 | Fresh air fans |
| 8 | 8 | Interior light front, Emergency flasher and warning light, Turn signals |
| 9 | 16 | Accessory, Door buzzer |
| 10 | 16 | Windshield wipers, Rear defogger and warning light |
| 11 | 8 | Oil warning light, Alternator light, Turn signal warning light, Gas gauge |
| 12 | 8 | Horn, Brake lights, Brake warning light, Parking brake control light |
The owner's manuals aren't clear which fuses are 8A and which are 16A and it varies from year to year. Bentley is even less clear and there is a mistake in the manual but the color wiring diagrams explain which fuses protection which circuits.
There are twelve fuses in fuseboxes of 70-79 models but only 10 in the 68-69 models.
68-69 models only use 8A fuses.
Accessory means radio in most cases but can also mean gas heater in addition.
Fresh air fans were mainly available on non-US models for defogging the front windshield.
WARNING: Terminal and harness assignments for individual connectors will vary depending on vehicle equipment level, model, and market.